A Top-Secret Marriage Proposal in NYC's Spyscape Museum
I was traveling in Africa when I got an email from a groom-to-be named Sanford, and the offer to photograph his oh-so-secret and creative proposal meant I had to find reliable internet so we could plan! Not that I had anything to worry about. Sanford had it all planned out, right down to the style in which he wanted the after-proposal photos shot. 1960s mod was the theme, so of course Sanford planned to ask his soon bride-to-be Dawn to marry him at a spy museum in NYC. These two met shortly after Dawn moved to New York from England in the early 2000s. "Just friends" for many years, romance blossomed in 2012, and they've been sharing their mutual love of 1960s mod (no, I wasn't kidding), pop culture, and music ever since. Never one to pass up the opportunity to dress up or drink cocktails, Sanford suggested a night at Manhattan's spy museum, Spyscape. His point of focus? The James Bond "Missions and Martinis" exhibit, where Dawn had no clue he was planning to propose beside 007's vintage Aston Martin DB5! Due to back issues, Sanford stood during the proposal, but that of course didn't matter at all: She was caught completely off guard! After 10 minutes of shock and grins, she agreed to an hour of creative, quirky photos in the mysterious museum before we had martinis to end the night.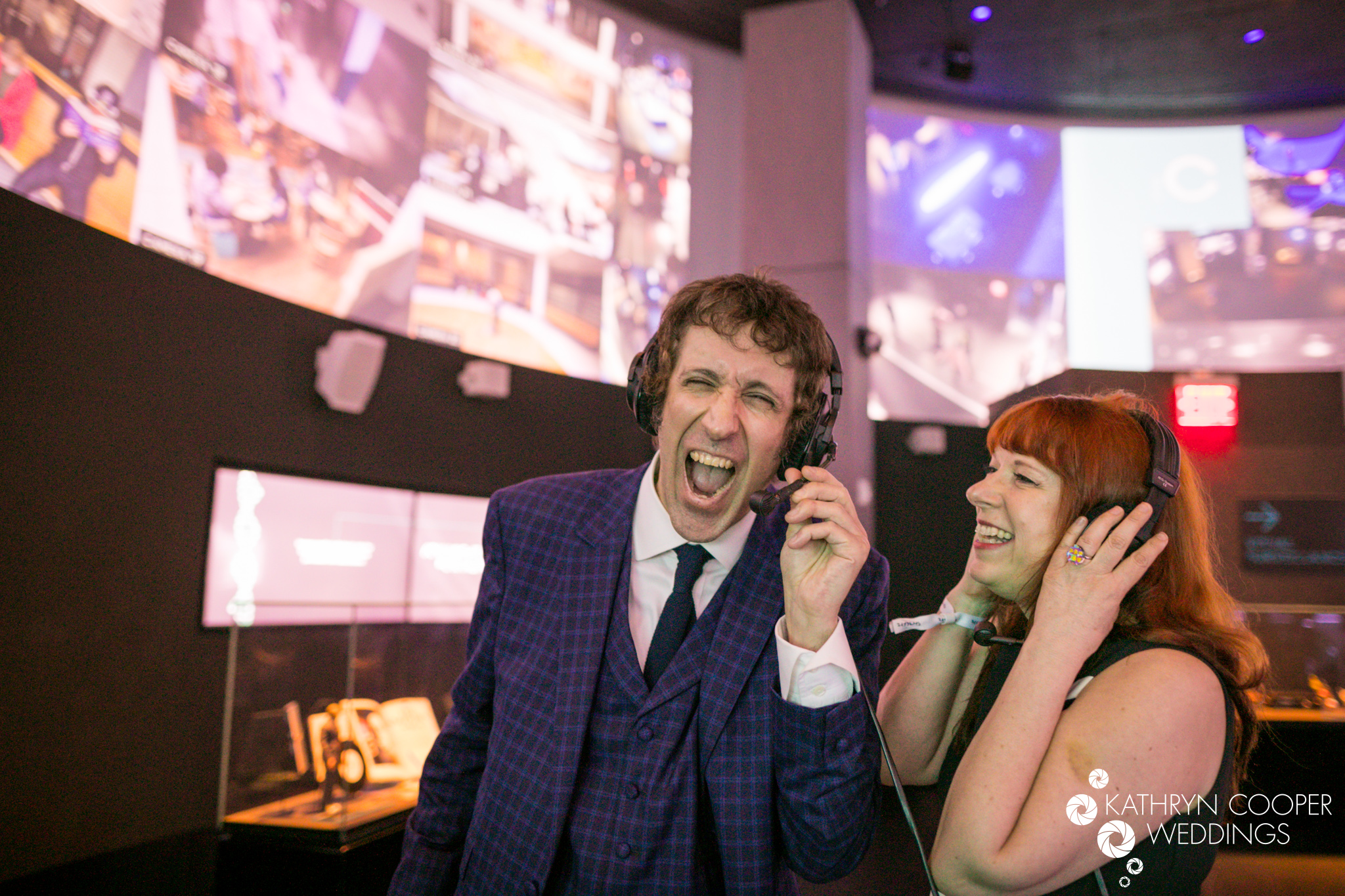 Sure, I know Big Brother was watching me as I left...as were the hundreds of security cameras watching us all in Midtown Manhattan...but at least I knew that these two were happy (and that I'd captured super-fun photos of the whole operation!). As I left, Dawn was still talking about how she couldn't believe the whole ruse that had been planned months in advance--and across continents at that! They were both so giddy, it was hard not to stay and celebrate with them. If you're a guy or gal preparing to propose in NYC, the Hudson Valley, or anywhere in the world--and want to do something ultra creative--then I want to hear about it! This very unique, creative proposal in NYC was so darn quirky (did you see all the hacker masks and projections?) that I can't wait to see what else they have up their sleeves in the future. Grooms and brides who love offbeat love--keep it going! No need to be "normal" here.
Location: Spyscape Museum in Midtown Manhattan, New York, USA
Photographer: Kathryn Cooper Weddings
Date: Spring 2019
Dress: Jessica Howard
Boots: Lacoste
Suit: Mark Powell Bespoke
Tie: Banana Republic
||
For inquiries:
info@KathrynCooperWeddings.com